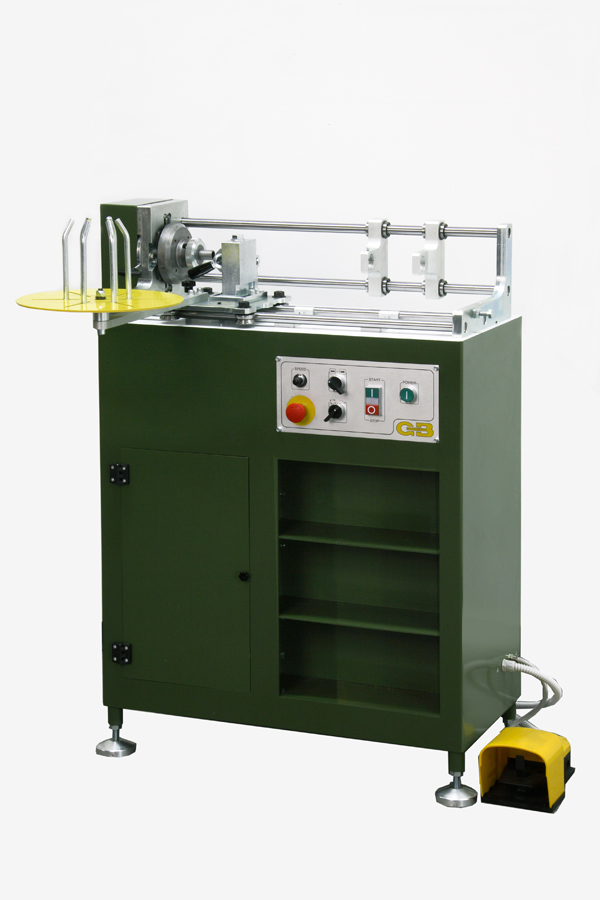 Winding machine with expulsion for wire, hollow/cored/solid tube with cross-section of different geometries.
Wire diameter 0.3/6mm. Welded tube or strip 1/8mm. Thickness 0.1 / 0.5 mm.
Enterely made in steel, the machine can be used for various types of production.
This machine was planned to wind wires and tubes during different types
of working procedure and in particular:
a) CONTINUOUS WINDING WITH SMOOTH MANDREL, thanks to which differently shaped full wires and wires with core of various dimensions can be wound;

b) WINDING PROCEDURE WITH OVAL FORMED MANDREL, thanks to which, starting from plate, open tube can be formed and winded, on a formed oval mandrel;

c) GOOSE-NECK OR FLEXIBLE TUBE WINDING, the working procedure is performed by means of a fixed or mobile carriage with two profiles, which are contemporaneously placed embedded and the one of which is up-side-down as compared to the other one.

The rotation of the mandrel is driven by means of an adjustable-speed motor. The carriage is loose. It is possible to work both in continuous and manual mode (by means of a threadle drive).

This machine can be used under normal mode (rotation) or with an ejection system (rotation and alternated ejection system).
DIMENSIONS 850x400, H = 1120 WEIGHT 180 Kg SPEED Adjustable from 0 to 300 rev / min DIMENSIONS PROCESSABLE wire and tube, also welded, circular, oval and poligonare from 0.3 mm to 6 mm.
GB Meccanica s.r.l.
via Segré, 11 - 52040 Pieve al Toppo
Civitella in Val di Chiana - Arezzo - ITALY
Tel. 0575 497959 - 411045
Fax 0575 416608
web: www.gbmeccanica.cominfo@gbmeccanica.com